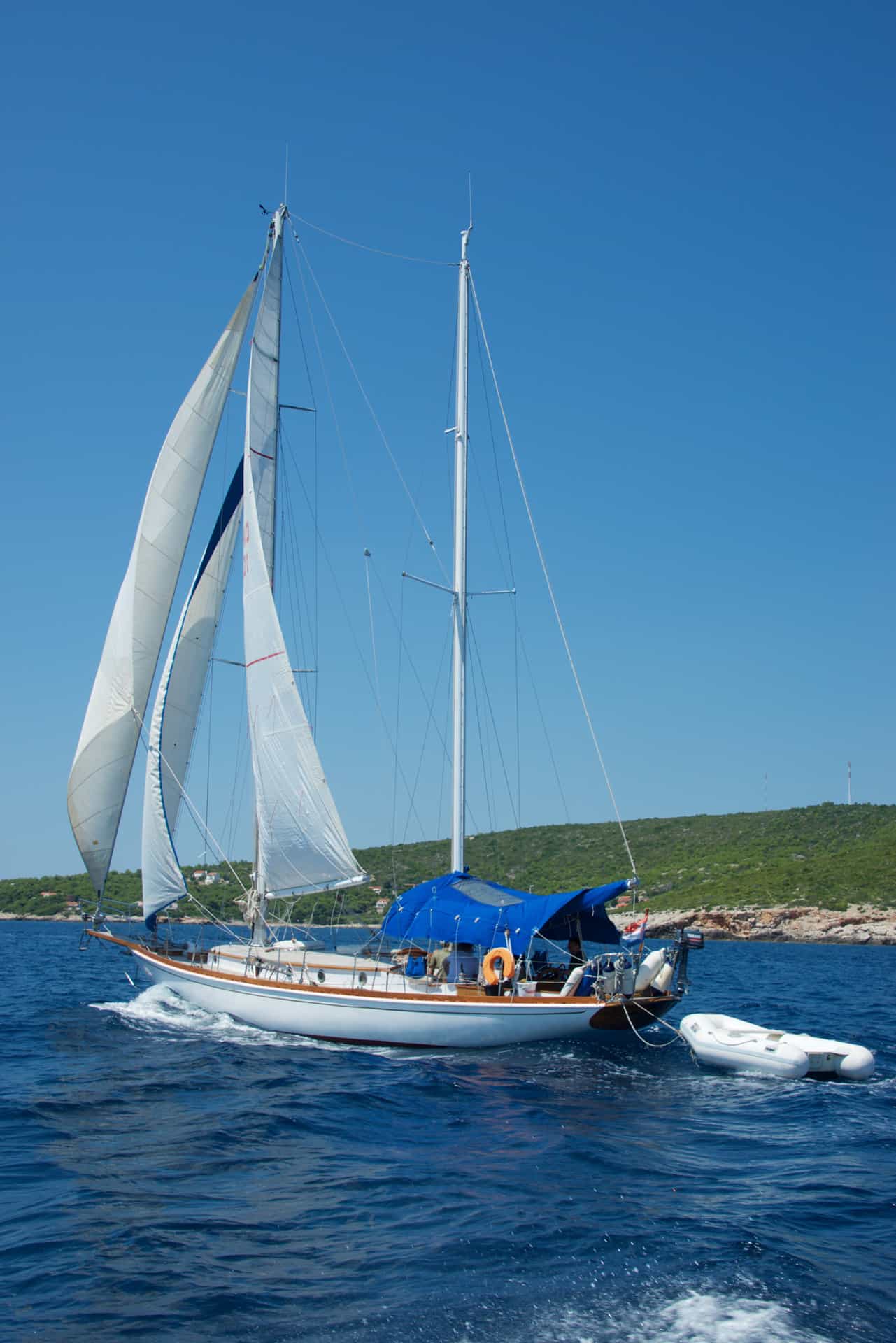 Discover
Unique Boat & Trip
Bel Ami is a beautiful 52 feet long (15.6 meters) wooden Bermuda ketch racer. It was designed by Joe Murray Watts and built in 1931 as a 'Bermuda ketch' from teak and mahogany in historical Picchiotti shipyard for an Italian admiral. In one part of her history she was owned by Swedish owner Karl Erik Hedberg.
Timeless Classic
This old-style racing yacht is more elegant than usual cruising boats. The interior and exterior are real head-turners. This boat is a true beauty, an old-fashioned Clark Gable type of experience, and all who sail on it fall in love with it. Many celebrities have sailed on Bel Ami, such as former British Prime Minister David Cameron.
Mamma Mia Star
The real appearance of this wooden beauty happened when Bel Ami was the main picture boat of the movie Mamma Mia II, in Croatia on the island of Vis in 2016. Actors Pierce Brosnan, Lily James, Joshua Dillan, Jeremy Irvine were on this deck. You can easily spot this beauty in the movie itself.
Racing and Cruising Background
This fast-classic boat participated in many regattas and won many cups in the class (even against the modern boats). The boat was completely reconstructed in 2016. It is ideal for couples or a family. When Bel Ami sails into a marina, everybody walks over and stares at it.
Benefits
What you get
Wooden Soul

The wooden soul for your voyages.

Mint Condition

Perfectly maintained, in immaculate condition.

New Gear

New sails and a new engine (2019).

Accommodation

Ideal for 4 persons - 1 single & 3 double beds.

Privacy

Separate skipper's cabin with toilet.

Large Deck

Extra spacious sunbathing area, sun covered cockpit.

Enjoying

Sundeck cushions & hammock on the bow.

Water Toys

Three-meter dinghy; snorkeling and fishing equipment.
Bermuda ketch racer 'Bel Ami'
Designed by Joe Murray Watts
Built-in 1931
Shipyard: Picchiotti, Toscana, Italy
Length (LOA): 14,40 m
Beam: 3,40 m
Draught: 1,80 m
Water tank: 500 l
Fuel tank: 150 l
Engine: Yanmar 55 Diesel
Material: Teak – Mahogany
Displacement: 16 T
Ballast: 6,5 T (lead)
Berths:
4 guests – Sleeping
8 guests – Sailing
Cabins:
2 guest cabins
1 skipper cabin
The ship, originally named Velella, was built at Picchiotti Shipyard in Tuscany, Italy in 1931. She was drafted for Italian admiral Marchese Robert Venturi Ginori of Florence to participate in the Newport Bermuda Race. In 1932 The ship participated in the Newport Bermuda Race, with the lowest rating at the time. In that race, her mainmast broke. In 1933, Velella was inscribed in the Loyd's Register under the Swedish flag and the Swedish owner Karl Erik Hedberg. By 1935., the ship was in the West Indies. In 1936 Velella sailed back to Europe, Portugal, and was there during World War II. Huge turnover happened in 1944 when the new owner changed the name of Velella to Bel Ami.
In 1958, the new owner was in charge of the auxiliary installation of the engine. The ship moved from Lisbon to Gothenburg. Bel Ami got a new owner again, in 1964, and sailed under the Portuguese flag, rated up to 20,816 (Thames Formula). The crew sometimes numbered up to 20 people.
The new owner has completely refitted Bel Ami. For the first time, electrical wiring was installed by the new owner in 1970. The tanks, standing and running rigging have been changed to stainless steel. The interior was divided differently. Bel Ami set sail to France. With the new owner, the boat participated in several regattas for old-timers. Bel Ami sailed the Mediterranean in 1981., and a new Mercedes-Benz OM636 engine has been installed that same year by a new owner. Two years later the boat participated in the 2nd Old-timer regatta 'Trofeo di San Pellegrino' in Porto Cervo, Sardinia.
In 1985. the new owner from Germany bought Bel Ami, and he moved the ship to Croatia. Bel Ami was the first ship to sail into the old port of the devastated Dubrovnik in 1991., seven days after the siege was interrupted bringing humanitarian help, War in Croatia (1991. – 1995.)
The boat has been completely reconstructed in 2016., and it has a new Yanmar Diesel 55 hp engine and is inscribed in the Croatian register of shipping.
Bel Ami now has a Croatian owner Željko Cikatić – Pila.
Since 1998., Pila was in charge of reconstructing and maintaining this wooden beauty and all the credits for its appearance today are belonging to him.